AYAN® Moisturizing Facial Foam
339,00SEK
AYAN MOISTURIZING FACIAL FOAM
Deep cleansing while hydrating and toning the face
AYAN® Moisturizing Facial Foam is fluffy, soft and fine scented with the aroma of lavender, grapefruit and sweet peppermint. It gently removes everyday dirt and makeup without drying the skin. Our key ingredient the extract of Rhodella Violacea Microalgae provides deep long-lasting hydration and regeneration for an immediate moisturized, softer and healthy appearance.
INCI: Lavandula Angustifolia (Lavender) Flower Water**, Aqua, Sodium Cocoyl Glutamate*, Disodium Cocoyl Glutamate*, Rosa Damascena (Rose) Flower Water*, Sodium Cocoamphoacetate*, Lauryl Glucoside*, Glycerin*, Maris Aqua*, Propanediol*, Hydrolyzed Rhodophyceae (Alga) Extract*, Phenethyl Alcohol, Caprylyl Glycol, Aloe Barbadensis (Aloe Vera) Leaf Juice Powder*, Mentha Spicata (Spearmint) Herb Oil**, Citrus Paradisi (White Grapefruit) Peel Oil**, Lactic Acid*, Sodium Phytate*, Limonene*** *Natural/Natural Derived **Certified Organic ***From Essential Oils
SIZE: 150ml.
About the shop: AYAN®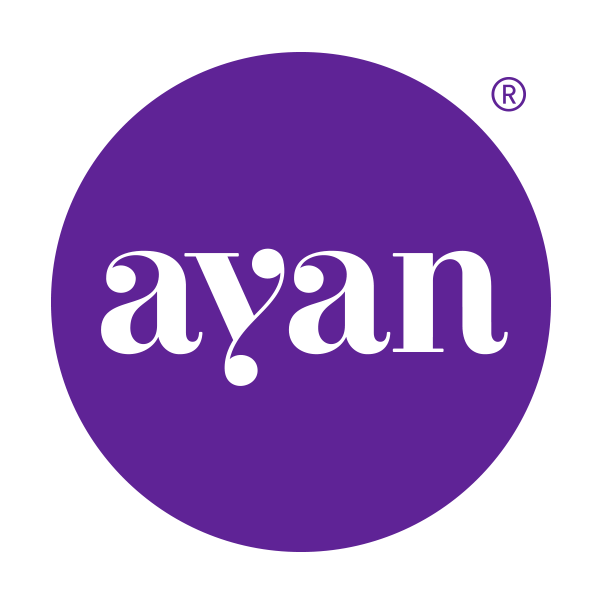 Wake up to your natural beauty and your inner light!
Natural cosmetics with the power of organic herbs, oils and active ingredients for beneficial and visible results. Change your daily beauty routine with conscious choices for the health of the whole body and in an environmentally friendly way.



AYAN® means light. Our products strive to awaken our inner light, which allows us to shine from the inside out. We believe that our beauty reflects our inner vibrant health, which is a combination of loving connection to our deep inner self, the conscious choices we make and our attitude towards the people around us and nature. Therefore, our organic and effective formulations help the body to awaken its natural health and charm.
AYAN® Product Quality Commitment is a promise to never use aggressive ingredients, fillers, thickeners, harmful preservatives, genetically modified and animal products, synthetic chemicals and fragrances or dyes.
AYAN® products follow the simple principle that with minimal ingredients we can achieve maximum synergy and stimulate the body's self-balancing processes towards natural health from within.
"AYAN® strives to make natural cosmetic products while ensuring that the best properties of each ingredient are combined to achieve the most effective and nourishing results. Because natural cosmetics are the "new" food for our skin and hair. "- YANA, founder and creative of AYAN®
Visit Shop
About the product
AYAN® Moisturizing Facial Foam star ingredients are:
an innovative and clinically tested extract of the microalgae Rhodella Violacea for regenerating hydration contains seawater plus polysaccharides, phospholipids and glycoglycerolipids from microalgae:
regenerates cells and promotes collagen production
has remarkable long-lasting hydrating properties after the first application
protects the skin and improves oxygenation
Lavender Floral Water:
with natural anti-inflammatory and antiseptic properties
soothes skin irritation
contains antioxidants and fights free radicals
Rosa Damascena Floral Water:
balances sebum production and tones the skin
shrinks extended pores
Aloe Vera:
hydrates and softens the skin
Sweet Peppermint Oil and White Grapefruit Oil:
cleanse the skin in depth and protect against bacteria
have a stimulating and refreshing aroma
Suitable for all skin type.
USE: Pump once or twice into your hand. Apply to face and neck with gentle circular movements until is completely cleaned. Rinse thoroughly with water. Then you can use AYAN® Rosa Damascena Bulgarian Rose Water on a cotton pad as a facial toner. WARNING: Avoid direct contact with the eyes! Keep out of the reach of children! Do not use in the case in allergy to any of the ingredients!
No more offers for this product!
Cancellation / Return / Exchange Policy
ANNULLERING AV VARornAS BESTÄLLNING OCH RETUR
Användaren kan returnera de produkter som köpts från e-butiken inom 14 dagar från inköpsdatumet på följande villkor:
Produkterna ska finnas i originalförpackningen
Inga tecken på användning, skadat utseende eller fläckar
Att inkludera den ursprungliga fakturan eller beställningen som användaren har tagit emot produkterna med (med sin beställning får användaren ett medföljande dokument - ett kvitto för betalning vid leverans / kontant vid leverans / eller en faktura på begäran);
Kostnaderna för att returnera produkterna är på användarens bekostnad.
Alla belopp som betalats vid leverans återbetalas på ett sätt som diskuterats med användaren inom 14 dagar från det datum då användaren har meddelat sin annullering av beställningen. Alla belopp som betalats med betalkort / kreditkort återbetalas till samma konto (kort) som betalningen gjordes från.
Adress för retur av produkter: Sofia, Цар7A Tsar Boris III Blvd., kontor 9.
General Inquiries
There are no inquiries yet.
You might also want to add